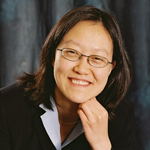 Prof Lu,
photo: Lu group website
Analytical Chemistry Young Innovator Award for 2013 is given to Prof. Hang Lu. She completed her MS and PhD in chemical engineering from MIT. Currently, she is a professor in the School of Chemical and Biomolecular Engineering, Georgia Institute of Technology.
Her group is working at the interface of engineering and biology to address questions in neuroscience, cell biology, and biotechnology.
According to announcement, this award is sponsored by Analytical Chemistry and the Chemical and Biological Microsystems Society (CBMS) and the award will be presented to the receipient at the Miniaturized Systems for Chemistry and Life Sciences (microTAS) conference, October 27-31, 2013 in Freiburg, Germany. Prof Lu was awarded for fundamental understanding and exploitation of fluid-, particle, cell, and organism-behavior at the micro scale and using micro-scale analytical chemical engineering for advances in neurogenetics, cell biology, and biotechnology.